Helping out with Chester-le-Street's new Re-F-use cafe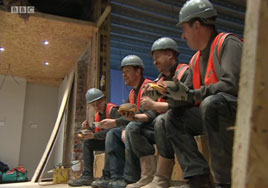 From Facebook: "We were on BBC Look North yesterday! Proper chuffed with this piece on the news..
"Thank you to all who have helped get the cafe to where it is. In particular to: McCarricks Construction, who have given three weeks' labour free of charge and done some incredible things to help with materials and push the project on. …"
We were delighted to be able to provide construction and plumbing services to help an innovative local social enterprise to get off the ground and meet their festive deadline to host a 'pay as you feel' Christmas dinner for residents of the town on December 25th. What an inspiring project to be involved in, well done to all concerned.