New College Durham celebrates their part in our Apprentice Award win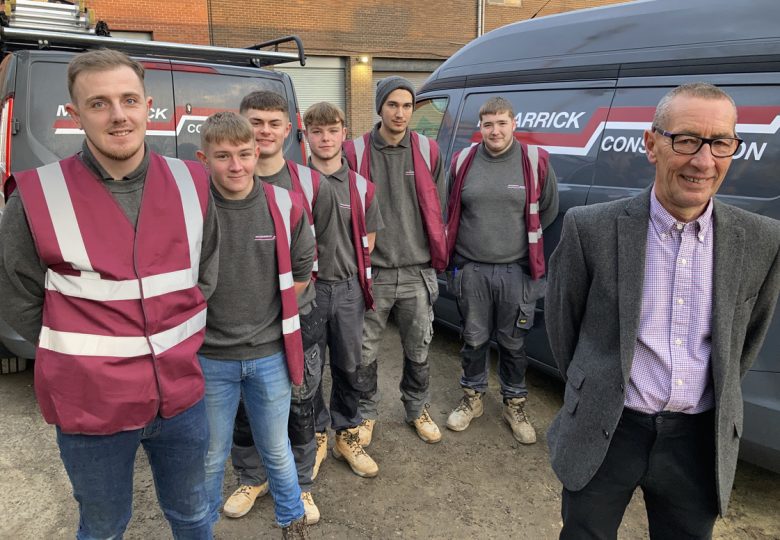 From www.newcollegedurham.ac.uk/news 10 November 2021
"When McCarrick Construction picked up North East Apprentice Employer of the Year for the second year in a row last week, we felt extremely proud of the six current apprentices and the hardworking staff at New College Durham who all play their part to make these schemes such a success. 
McCarrick Construction is well-known for being an apprentice-friendly employer and is currently training seven apprentices, six of whom study NVQ apprenticeship programmes at NCD – one plumbing, one bricklaying and four joinery apprentices.
"Our apprenticeship relationship with New College Durham works really well for us" says Tony Pearce, Contracts Director at the company and a former McCarrick's apprentice himself. "In recent years we've switched to email communications which makes it easier to co-ordinate arrangements, but we still have constructive face to face meetings with the tutors who are very organised, letting us know what's going on in advance. The assessors are on site appraising each apprentice's progress once a month too."
An apprentice will work on site for four days of the week, spending the fifth day in college. During college holidays employers offer full-time work, meaning an apprentice is eligible for sick pay and paid holiday. There is the expectation that an apprentice will be professional about keeping up with their coursework and managing the balance of on-site and desk-based learning. As Managing Director Matthew McCarrick says, "Some might think apprentices are students with on-site work experience jobs, but we see it the other way round – you're an employee of ours who happens to go to college one day a week, and there are benefits and responsibilities exactly as there would be if you were working full-time."
An NVQ Level 2 apprenticeship takes two years to complete and if there is the option to do the Advanced Level 3 year, Tony highly recommends any apprentice takes it up, he continues "It's best to apply as early as possible. You can apply directly to McCarrick Construction and enrol separately on a course, or you can go via NCD and receive help and guidance from their apprenticeship team – either way, if you are a good fit you'll be given a two week paid trial in the summer and if things work out well you'll be starting in September."
McCarrick Construction usually takes on two new apprentices a year but in 2021 due to a number of successful contract wins, and a very high standard of candidates, they accepted five. "We're a popular choice because being an SME with a varied portfolio, an apprentice at McCarrick Construction will get a huge mix of different experiences, whereas a bigger contractor or a specialist may have a narrow experience of joinery. Our joinery apprentices get to see how a staircase is fitted, how a roof structure is made, how a stud partition is put up in a commercial job and how to install bespoke kitchens to residential projects for example, all within a short timeframe."
This is the second time McCarrick Construction has won the North East Apprentice Employer of the Year and the range of experience certainly contributed, but the company also highlights their years of experience in selecting the most committed candidates and the excellent training received by longstanding veterans of the industry among the reasons for their success. Career progression opportunities are available – more often than not, their apprentices are offered a full-time position at the end of their apprenticeships and with the right level of experience, some eventually go on to train for site management qualifications or managerial positions within the team.
If you'd like to apply for an apprenticeship at McCarrick Construction via New College Durham, click here to see our latest apprenticeship vacancies or keep an eye on McCarrick Construction/McCarrick Homes Linkedin or Facebook pages.
Or for more information and a chat with a member of the Apprenticeships Team at NCD, you can email apprenticeships@newdur.ac.uk or call 0191 375 4040.
Pictured from left to right; Nathan Walton, Matthew Gill, Finley Wilson, Bradley Crowley, Tanis Scudder and Ben Hewitt, as well as Contracts Manager and former apprentice, Tony Pearce."