A solid foundation for our Trainee QS James Foster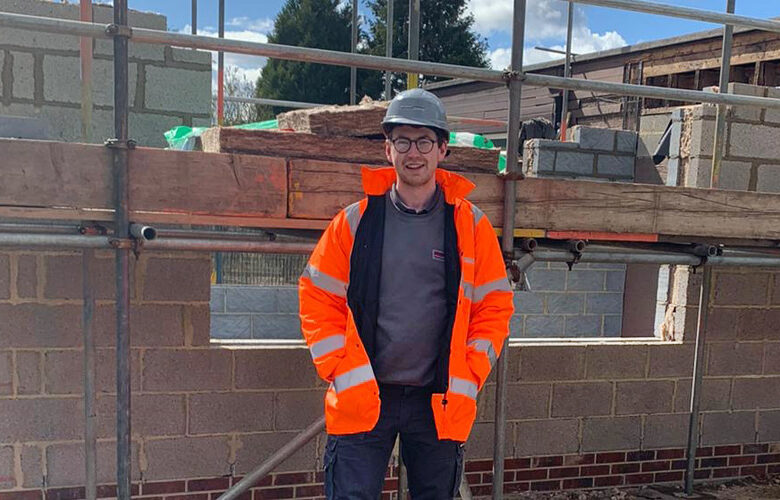 We have a highly-qualified team keeping our projects on track at McCarrick Construction, but nothing beats on-site experience as our Trainee Quantity Surveyor James Foster can testify.
James, who is a third-year student at Northumbria University studying Quantity Surveying, has always been keen to go the extra mile since he joined us as a trainee in 2020. And never more so than when he asked to spend more time on one of our latest educational projects at St Oswald's School in Newton Aycliffe.
"During the first lockdown, I saw an advert for a two-week internship at McCarrick Construction aimed at Quantity Surveying students. Given how scarce something like this was, due to Covid, I was quick to jump on the opportunity and apply," explains James.
He adds: "Following a successful interview, I completed​ my two-week internship but was keen to build on this and gain more experience. Having asked Matthew for the chance to complete some unpaid work experience when university started again, he countered that with the opportunity to become employed two days a week around my studies."
Matthew explains further: "Despite James' official role being mostly desk-based he has always impressed me with his willingness to learn from the ground up, whether it be getting to grips with how the yard works or asking to go out and spend some days on site to see how our teams operate. Every team values a team player and we are no different so it is great to be able to give James the practical rounded experience which will hopefully set him in good stead for his future career at the same time as providing our clients with the very best service." But it hasn't been an easy route and James has worked hard to prove himself. "In some aspects it has been nice to enhance what I have already learnt from university but I'll admit in other areas it has been a steep learning curve," explains James. "I've certainly had a few questions along the way but being thrown straight into it can be the best way to learn and I'm glad to be given the responsibility despite still being a student. The team have been more than accommodating, no matter how many questions I pester them with." 

And our site at Newton Aycliffe was the ideal place for James to learn from the best. He explains more. "Having built my way up to start undertaking some of my own tenders and projects it was clear that something I was struggling with was understanding of some of the processes, materials required, and time-scale needed for building certain elements – all important parts of putting together tenders but something that isn't covered in much detail at university." He adds: "The aim of suggesting I spent some time on site at Newton Aycliffe was to complement the work undertaken in the office. Having prepared the tender bid for this job alongside Matthew it was an opportunity to see every aspect from receiving the tender email in the office to practical completion and handover. The hope is that I can gain a deeper understanding of the physical building side and align this to what is seen on drawings and schedule of works in the office."