A fresh new look for our office
During the course of 2019 McCarrick Construction has completed a multi-staged office refit for our own premises in central Chester-le-Street. The talents of nearly all members of our crew have been enlisted at one point or another and the end result is not only a great workspace but an enjoyable reminder of the benefits of having an established and highly-skilled team on hand.
On entering, the familiar, plain brick office exterior now gives way a bright, full-height graphic wall design by Abi McCarrick in the vestibule, showcasing the company's diverse portfolio of projects and providing a warm welcome to visitors. Inside the main office, walls have been removed and a number of glass partitions installed to create both a soundproof meeting room and a private office space. Behind director and Newcastle fan Keith's desk is a stunning photograph of the Tyne at night by local photographer Graeme Peacock, installed across the entire wall by Con at Forb Media.
Two of our site managers, both ex-bricklayers, were also keen to get their trowels back out to show the younger lads how it was done for the feature brickwork in the meeting room. This nod to the company's long history of building and bricklaying also lends warmth to the cool, blue-grey colour scheme on the walls and carpet and in the grey distressed wood-effect flooring, picked out along with the rest of the office furniture and accessories by Melanie Robson and Christine Ryan in the office. To finish the room off, James Brown and Derek Calvert recycled our own old scaffolding board to create the glass-topped table and soundproof ceiling covering. Recycled steel wall art and low-light tropical house plants lift the atmosphere.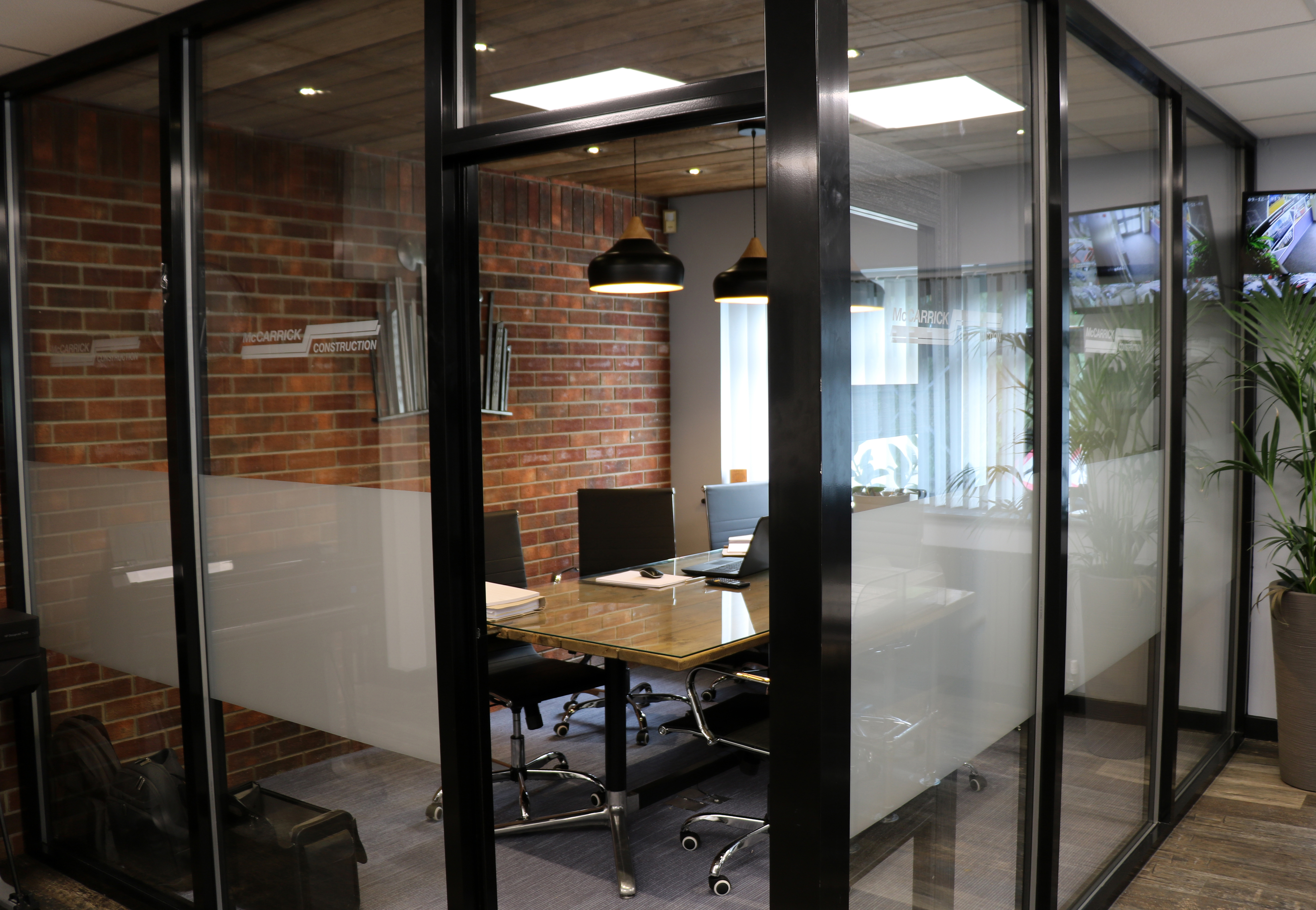 Finding little office furniture available commercially that would do justice to our industrial new look, director Tony Pearce designed and made the poured concrete desks in our workshops. As a team, Ged Murphy and Gary Lawson decided how best to finish and install them safely – with considerable effort as it transpired, but the end result is both characterful and unique.
As a final touch, we've nearly finished a huge joinery project built by Derek Calvert, Larry Punshon and apprentices Clayton and David in Matthew's office and we will update our news feed with it in the coming weeks.
Our team has done a fantastic job and paid great attention to detail throughout, using the interior design of the office to convey both professionalism and personality, altogether a fitting new look for the company.